Westmont of Carmel Valley
Westmont of Carmel Valley is a 134,437 s.f. senior living project located in San Diego, CA. The facility will consist of a two-story main building with 101 Assisted Living units and 17 Memory Care units. There will also be 5 single-story duplex casitas that have two bedrooms per unit.
Indoor amenities include a dining area, activity rooms, theater/chapel, fitness room, and salon. Outdoor amenities include a dining patio, scenic overlooks, internal walking trails and connection to offsite regional trail.
Scheduled completion date is Q3 2023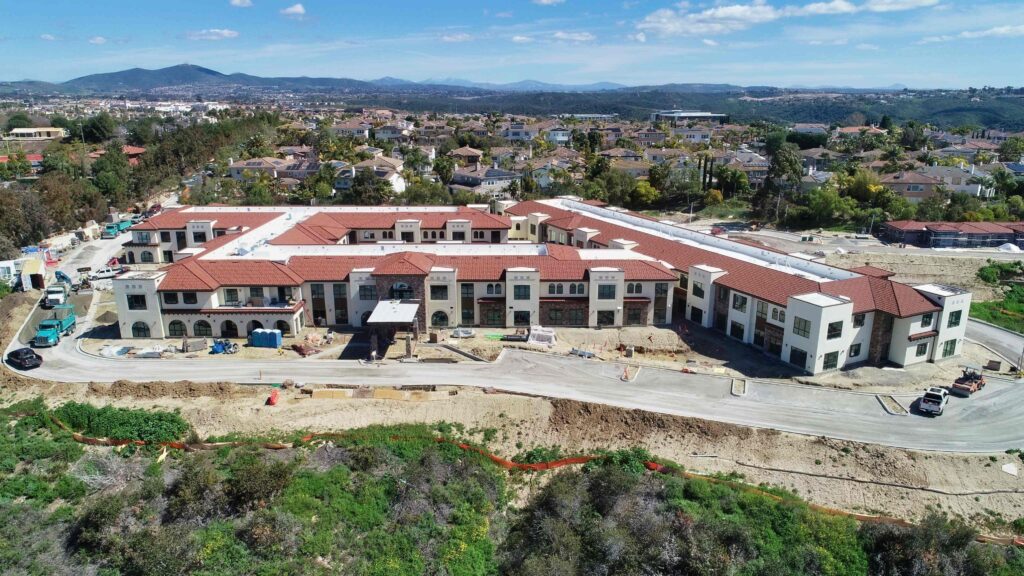 While recent rain has posed many difficulties, Westmont of Carmel Valley continues to progress and reach milestones on both the interior and exterior of the building. On the exterior, scaffolding has been completely removed from the main building! Inside of the building, countertop installation has begun which will be followed by backsplash and other unit finishes. 
Although our paving date was pushed back due to the rain, we have a new plan to pave in the next few days! In the main courtyard, excavation for the pool is underway with landscaping close behind. Inside of the units, cabinets and countertops continue to progress while common areas await painting and flooring.
Planned Street Interruptions
There are no upcoming activities that will affect traffic in the area.
We apologize for any inconveniences throughout the construction process. The safety of all employees, neighbors and the general public is our number one priority. Please be aware of changing conditions in the public right-of-way as sidewalk and street conditions are ever changing. Heavy equipment is entering and exiting the jobsite regularly. Please be aware of your surroundings and help us keep this project safe and free of injury.
Thank you.
7:00am – 7:00pm, Monday through Friday.
Occasional work on Saturdays
Work outside of permitted hours (such as specified holidays) may occur on a case by case basis as approved by Building Services Department.
Stay Notified About This Project!
Ben Robles
Project Manager
509.844.1569
Addison Guinn
Project Engineer
817.723.7118
Mike Heck
Superintendent
951.235.4677