Merrill Gardens at Rolling Hills Estates
Merrill Gardens at Rolling Hills Estates is a 134,985 square foot senior living project located on the corner of Silver Spur Road and Dry Bank Drive. The community includes 94 independent/assisted living units, 20 memory care units, 18,175 square feet of common amenity space, 16,965 square feet of common outdoor landscaped courtyards and parking for 64 vehicles in a partially below grade garage.
Scheduled completion date is Late Summer 2020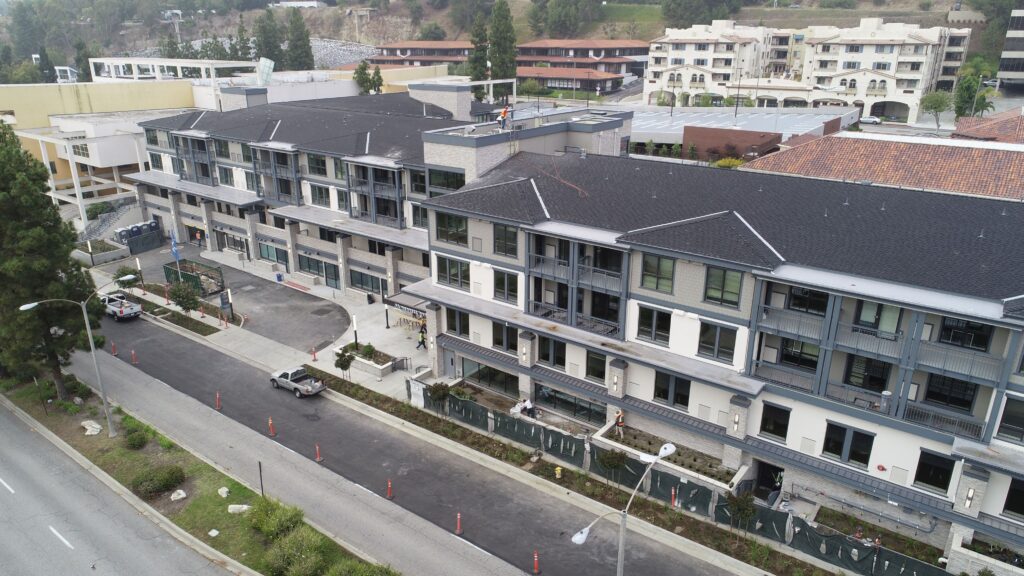 At the site of Merrill Gardens at Rolling Hills Estates, all construction aspects are essentially complete and we are working our way through building, fire and life safety, and state inspections at this time. Furniture, fixtures, equipment and artwork are currently being installed. We are anticipating receiving our Certificate of Occupancy early next month.
COVID-19 Update
SRM Construction has implemented protocols on all jobsites that are allowing projects to continue at a less productive rate but nevertheless, in compliance with the CDC restrictions and state orders.
The health and safety of our employees, subcontractors and vendors is our greatest priority. We are doing everything we can to work and progress though these difficult times!
Planned Street Interruptions
We will be placing a new traffic coating on the roadway along the perimeter of the project and re-striping the intersection to make a beautiful new presentation. 
We apologize for any inconveniences throughout the construction process. The safety of all employees, neighbors and the general public is our number one priority. Please be aware of changing conditions in the public right of way as sidewalk and street conditions are ever changing. Heavy equipment will be working on and around the site include pump trucks, excavators, mobile cranes and forklifts. Please be aware of your surroundings and help us keep this project safe and free of injury. Thank you.
Trevor Ashenbrener
Senior Project Manager
509.944.4568
Bill Robinson
Project Manager
714.794.7710
Jared Osborn
Project Superintendent
206.571.7994
Carlos Martinez
Project Engineer
626.322.7460
Stay Notified About This Project!