Merrill Gardens at Rancho Cucamonga
The Merrill Gardens at Rancho Cucamonga project, located off Highland Avenue, consists of a 96-unit assisted living facility and a 16-unit memory care facility. The project encompasses a 4-acre site fully developed with landscaping, parking, decorative sidewalks, patios and private residential unit balconies throughout. Amenities include a commercial kitchen, bistro, dining room, activity center with theater, library, salon, wellness center and outdoor pool.
Scheduled completion date is August 2018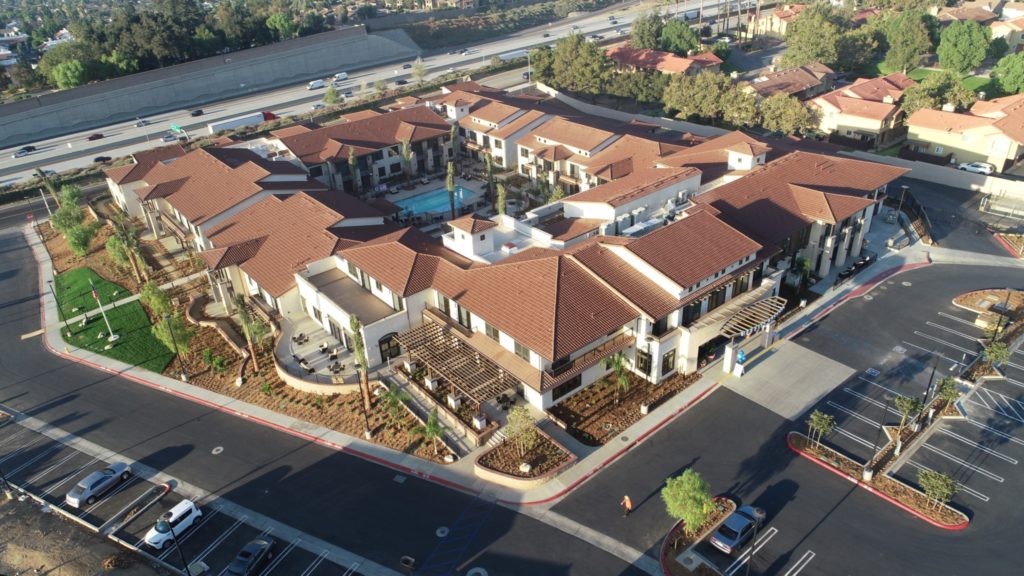 August marked the completion of construction on the Merrill Gardens at Rancho Cucamonga project! On Tuesday, August 28th, we received Certificate of Occupancy from the City. Merrill Gardens has completed their FF&E install and are in the process of moving their staff into the building. In the month of September, SRM Construction will remain onsite to complete some landscape improvements on the neighboring church property as well as finish all punch and clean up around the site.
Planned Street Interruptions
We are sorry for any inconveniences in the interim but the safety of our site, workers and neighbors are of utmost importance to us. Thank you.
7:00am – 7:00pm Monday through Friday.
Saturday work or work outside of permitted hours  may occur on a case by case basis as approved by Building Services Department.
Trevor Ashenbrener
Senior Project Manager
509.944.4568
Erik Benzel
Project Manager
509.944.4603
Michael Heck
Project Superintendent
951.235.4677
Ben Robles
Project Engineer
509.844.1569
Stay Notified About This Project!