Westmont of Milpitas is a 199-unit Assisted Living facility, consisting of 171 Assisted Living units and 28 Memory Care units. The project sits on 2 acres and will be 4 stories tall with one level of underground parking. The project amenities include three large courtyards, an indoor pool, exercise/therapy facilities, theater, commercial kitchen and dining, activity center, salon and library.
Scheduled completion date is September 2020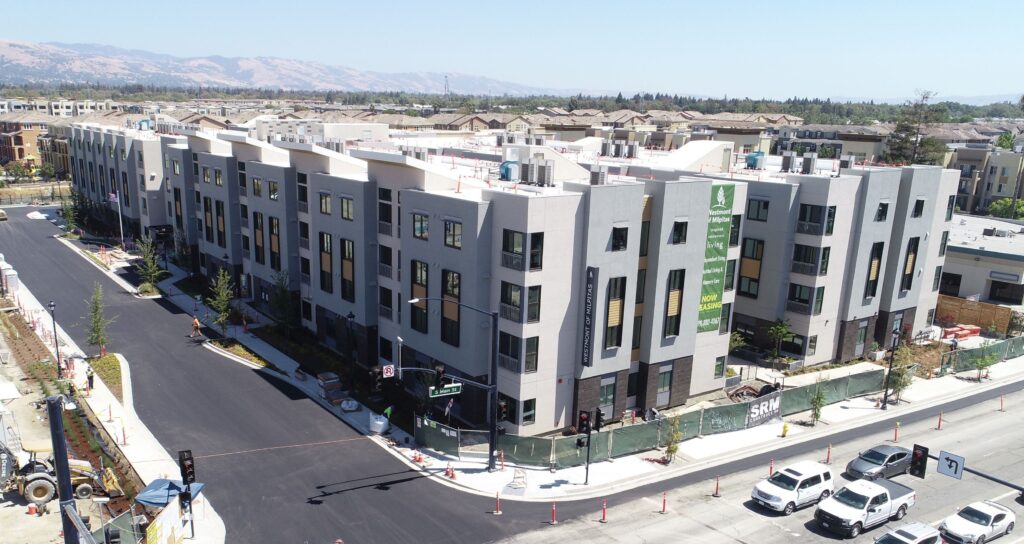 The finish line is getting closer and closer on the Westmont of Milpitas jobsite!
The east side of the Main Street sidewalk is now open and the brand new streetlight at the intersection of Main and Cedar is operational. We anticipate being completely wrapped up with work on Main Street at the end of August, pending city inspections. The project is hoping to be open by the end of September and we're looking forward to presenting this senior living community to the residents of Milpitas.
COVID-19 Update
SRM Construction has implemented protocols on all jobsites that are allowing projects to continue at a less productive rate but nevertheless, in compliance with the CDC restrictions and state orders.
The health and safety of our employees, subcontractors and vendors is our greatest priority. We are doing everything we can to work and progress though these difficult times!
Planned Street Interruptions
Through August, expect traffic delays on Main Street due to paving. For any issues, please call (669) 207-9975.
We apologize for any inconveniences throughout the construction process. The safety of all employees, neighbors and the general public is our number one priority. Please be aware of changing conditions in the public right of way as sidewalk and street conditions are ever changing. Heavy equipment is entering and exiting the jobsite regularly. Please be aware of your surroundings and help us keep this project safe and free of injury.
Thank you.
7:00am – 7:00pm Monday through Sunday.
Work outside of permitted hours (such as specified holidays) may occur on a case by case basis as approved by Building Services Department.
Stay Notified About This Project!
Trevor Ashenbrener
Senior Project Manager
509.944.4568
Peter Friis
Project Manager
209.666.7715
Brian Kopelowitz
Project Superintendent
425.232.7471
Kim Do
Project Engineer
408.649.4231