The Gridline Apartments will consist of two buildings — a north and west building. The North Building will be 161,601 s.f. with 2,850 s.f. of common amenity space and 129 units. Community amenities will include a fitness room, rooftop club room, and a roof deck with incredible skyline views, vegetated roof areas, custom BBQ table, and outdoor fire tables. The North Building also offers multiple bike storage rooms, a secured parcel room, a tranquil courtyard, and roughly 1,256 s.f. of co-working space to accommodate the teleworking lifestyles. The West Building (31,261 s.f., 49 units) will include  two secured bike storage rooms, secured parcel room, and a roof deck with sweeping view, BBQ, fire table and vegetated roof areas.
Scheduled completion date is Q4 2023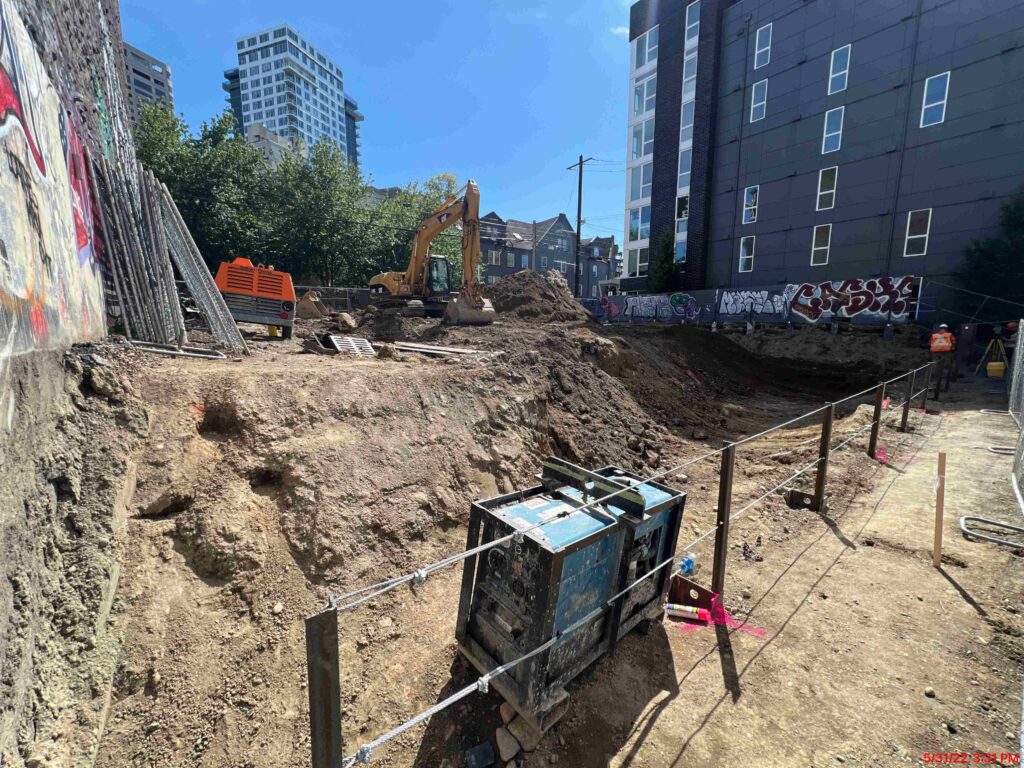 Construction on the west building is ongoing, railings have gone in and lagging is being delivered while mass excavation and haul-off has been taking place.  The vertical shoring is in and now there is just a few tie backs and lagging to start chasing the excavation.  The tower crane is expected to be set up by the end of June.
Over at the north building, horizontal tieback drilling and grouting has been ongoing.  Lagging has been chasing the excavation to the bottom of the hole and they are beginning to approach the tower crane foundation level to get ready for formwork and concrete.  The tower crane is currently scheduled for erection Saturday the 11th at the north building.
Temporary Road Closure Notice
To all our valued neighbors,
SRM Construction will be starting with crane operations soon, on the project site of the Gridline Apartments (1421 Harvard Ave.). Please note that there will be a temporary road closure on Harvard Avenue between E. Union Street and E. Pike Street for two days as per our schedule to perform the following construction activities:
May 31st – Base section placement for the tower crane, 9am to 2pm
June 11th – Tower crane erection, 4am to 6pm
This will affect pedestrian traffic on Harvard Avenue, have a high noise impact, and temporarily block access to QFC from the Harvard Avenue entry and exit points for QFC will be available from E. Union Street during this time to avoid safety hazards.
If you have any additional comments or concerns you would like to convey directly to the team, you can reach out to our Project Engineers, Christian & Jyoti at 206.402.3251
Noise Variance Notice - 6.11.2022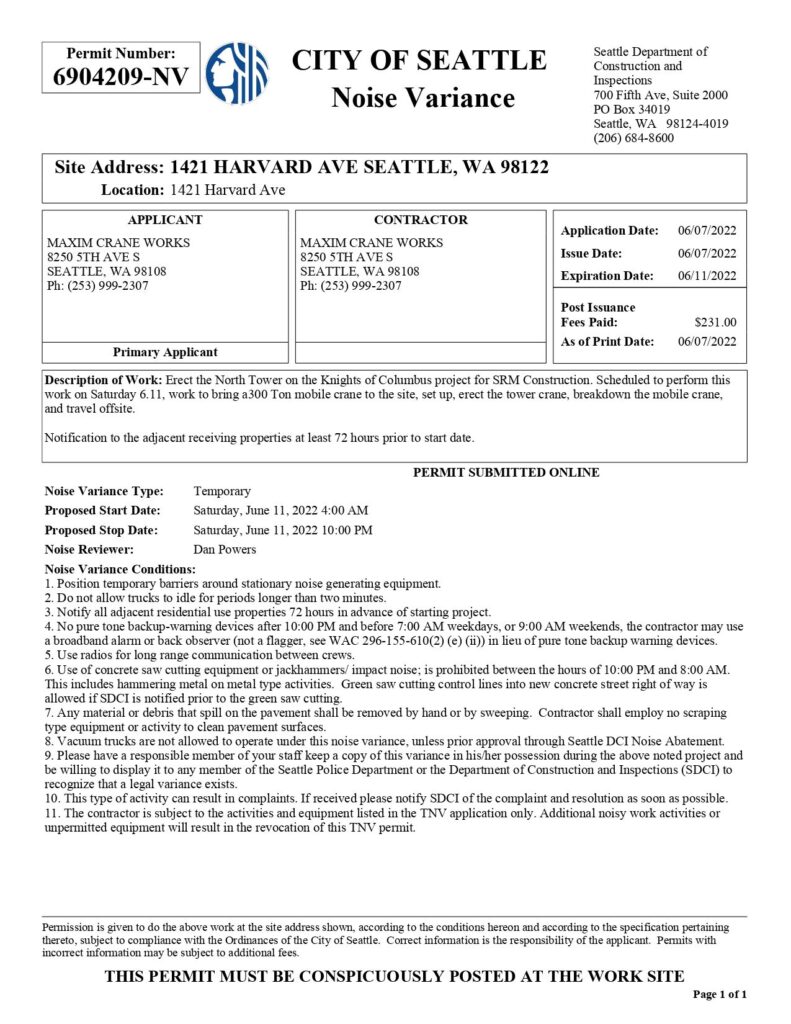 Planned Street Interruptions
Residents in the surrounding apartments should be cognizant of where they are parking and look out for our no p-arks.  We have had to tow a few vehicles already and as the construction sites develop we have had to adjust our no park zones to allow for safe trucking in the area.  Residents should be aware of no parking on the north side E union between Boylston and Harvard as well as an additional 2-3 car lengths at either end of the west side of Boylston Ave to allow for a wide swing for our trucks to move through the neighborhood safely.
Additionally shoppers at QFC should be aware that we will be planning on closing the exit onto Harvard and using the entrance as both an entrance and an exit in order to set up our tower crane since we will need the entire section of Harvard from East Pike to East Union.  Currently this is scheduled for Saturday the 11th however this may be subject to change notices will be going out well in advance once we are sure of the date so if residents are subscribed to the newsletter they should look out for updates on that.
We apologize for any inconveniences throughout the construction process. The safety of all employees, neighbors and the general public is our number one priority. Please be aware of changing conditions in the public right-of-way as sidewalk and street conditions are ever changing. Heavy equipment is entering and exiting the jobsite regularly. Please be aware of your surroundings and help us keep this project safe and free of injury.
Thank you.
7:00am – 6:00pm, Monday through Friday & non-legal holidays
9:00am – 6:00pm, Saturdays and legal holidays
No work on Sundays unless it's an emergency.
Work outside of permitted hours (such as specified holidays) may occur on a case by case basis as approved by Building Services Department.
Stay Notified About This Project!
Danielle Locklar
Senior Project Manager
831.277.8680
Bill Robinson
Project Manager
714.794.7710
Christian Dobbins
Project Engineer
503.310.6447
James Wilkins
Project Superintendent
425.772.0107