The Gridline Apartments will consist of two buildings — a north and west building. The North Building will be 161,601 s.f. with 2,850 s.f. of common amenity space and 129 units. Community amenities will include a fitness room, rooftop club room, and a roof deck with incredible skyline views, vegetated roof areas, custom BBQ table, and outdoor fire tables. The North Building also offers multiple bike storage rooms, a secured parcel room, a tranquil courtyard, and roughly 1,256 s.f. of co-working space to accommodate the teleworking lifestyles. The West Building (31,261 s.f., 49 units) will include  two secured bike storage rooms, secured parcel room, and a roof deck with sweeping view, BBQ, fire table and vegetated roof areas.
Scheduled completion date is Q4 2023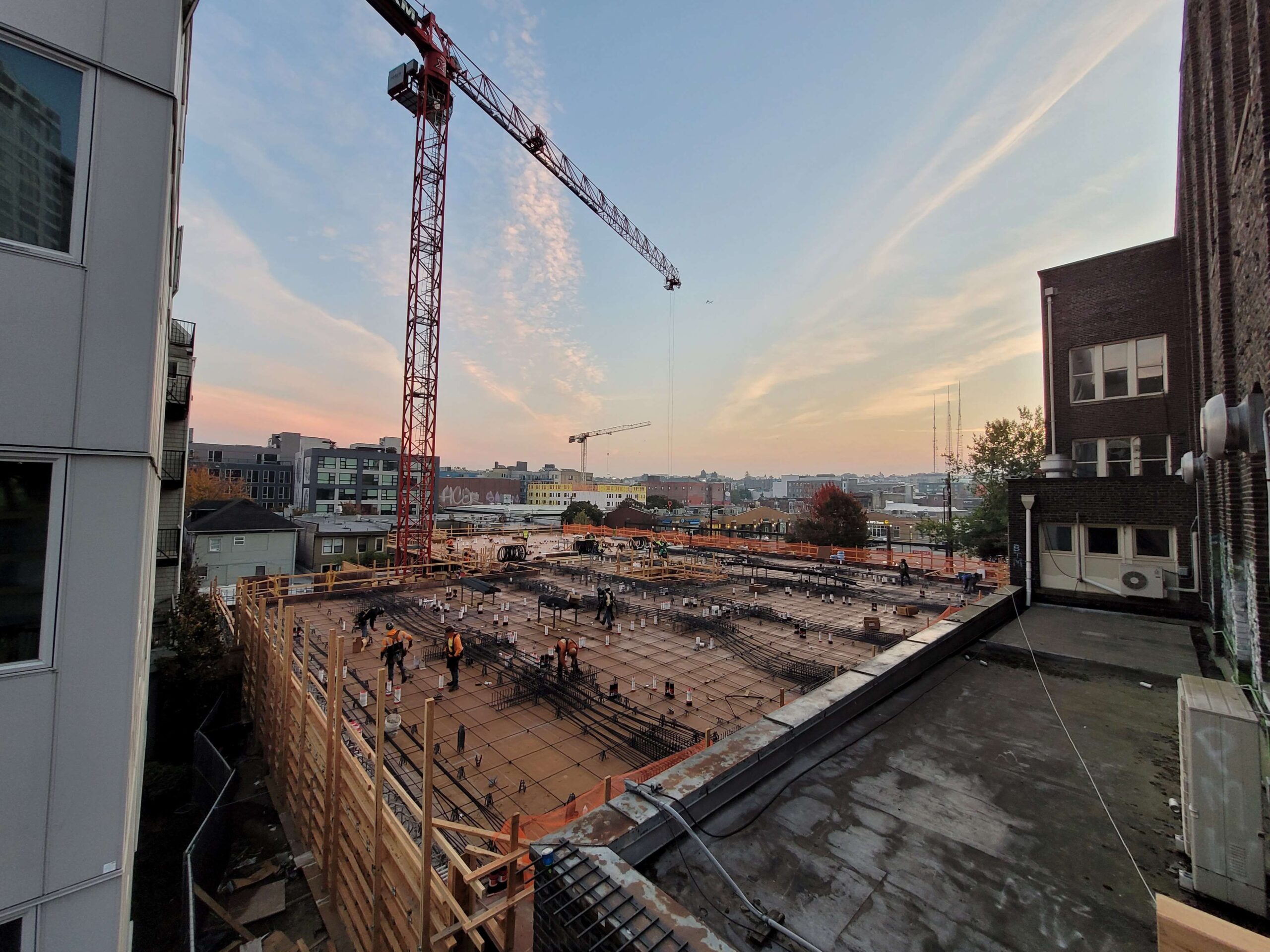 We are gearing up for the last concrete pour over at the North Building which will occur on October 18th and 24th, and wood framing is scheduled to start by the first week of November. At the West Building, we poured the last concrete level on September 29th and wood framing is already under way. Wood framing levels are scheduled to be completed by mid-November followed by window installation.
Noise variance and pedestrian movement will be affected. Neighbors are requested to follow the temporary "NO PARKING" signs on E. Union, and both ends of Boylston between E. Union and E. Pike are meant for construction staging and truck clearances, respectively. 
Planned Street Interruptions
Vehicular and pedestrian traffic on Harvard Avenue will remain slow as we continue to facilitate safety during construction and staging activities for construction vehicles/hauling trucks. Current levels of noise and temporary restrictions on street parking will be continue since we are coming out of concrete and progressing rapidly.
We apologize for any inconveniences throughout the construction process. The safety of all employees, neighbors and the general public is our number one priority. Please be aware of changing conditions in the public right-of-way as sidewalk and street conditions are ever changing. Heavy equipment is entering and exiting the jobsite regularly. Please be aware of your surroundings and help us keep this project safe and free of injury.
Thank you.
7:00am – 6:00pm, Monday through Friday & non-legal holidays
9:00am – 6:00pm, Saturdays and legal holidays
No work on Sundays unless it's an emergency.
Work outside of permitted hours (such as specified holidays) may occur on a case by case basis as approved by Building Services Department.
Stay Notified About This Project!
Danielle Locklar
Senior
Project Manager
831.277.8680
Bill Robinson
Project Manager
714.794.7710
Christian Dobbins
Project Engineer
503.310.6447
Jyoti Bhadrashetti
Project Engineer
415.712.9789
James Wilkins
Project
Superintendent
425.772.0107